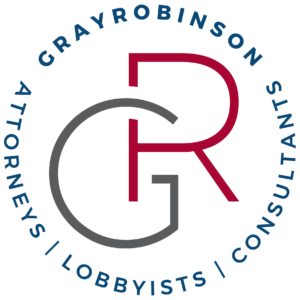 GrayRobinson is a full-service law and government consulting firm with 15 offices in Florida and Washington, D.C. Our attorneys, lobbyists, and consultants provide legal and government affairs counsel to Fortune 500 companies, emerging businesses, financial institutions, state and local governments, developers, entrepreneurs, and individuals in Florida and throughout the Americas. We are at the forefront of emerging legal, legislative, regulatory, and market trends and we work closely with clients to help them identify opportunities, overcome challenges, and accomplish their business objectives.
At GrayRobinson, we offer not only breadth across a great many legal specialties, but depth and proficiency in each one as well. We have invented a better brand of law firm, counting creativity as a hallmark characteristic and insisting on ingenuity and innovation. At GrayRobinson, there is no such thing as "business as usual." We are one of Florida's fastest-growing law firms and are proud to be at the forefront of emerging legal issues.
Our strength is built upon the collective histories of our offices across the state. Our roots run deep in each community we serve. As we have expanded across Florida, we have added to the foundations laid by prestigious law firms in Boca Raton, Fort Lauderdale, Fort Myers, Gainesville, Jacksonville, Key West, Lakeland, Melbourne, Miami, Naples, Orlando, Tallahassee, Tampa, and West Palm Beach.
We have forged our own path, creating a firm that best serves our clients and our communities. As we have grown, we have remained committed to keeping small-firm qualities, including the ability to work expeditiously on behalf of our clients and respond quickly to their needs. In addition, we have promised to work with conviction and compassion and to embrace our community as a matter of mission as well as passion.
See more at: https://www.gray-robinson.com