"Panthers in the Park" Winterfest Family Fun Day and Ice Skating Experience – November 26 from 10 a.m.-3 p.m. at Huizenga Plaza presented by Joe DiMaggio Children's Hospital
FREE fun for kids of all ages! Polar Express, Fair Superslide, Sun Sentinel kids town, face painting, sampling, massages and much more. Photo opps with Supercon Superheros, mascots and Santa to name a few. Free bicycle helmets and other giveaways from Fifth Third Bank, ACR Electronics, LaCroix and other partners along with live entertainment! Ohhh – and a REAL Ice Rink from the Florida Panthers (Fee to skate).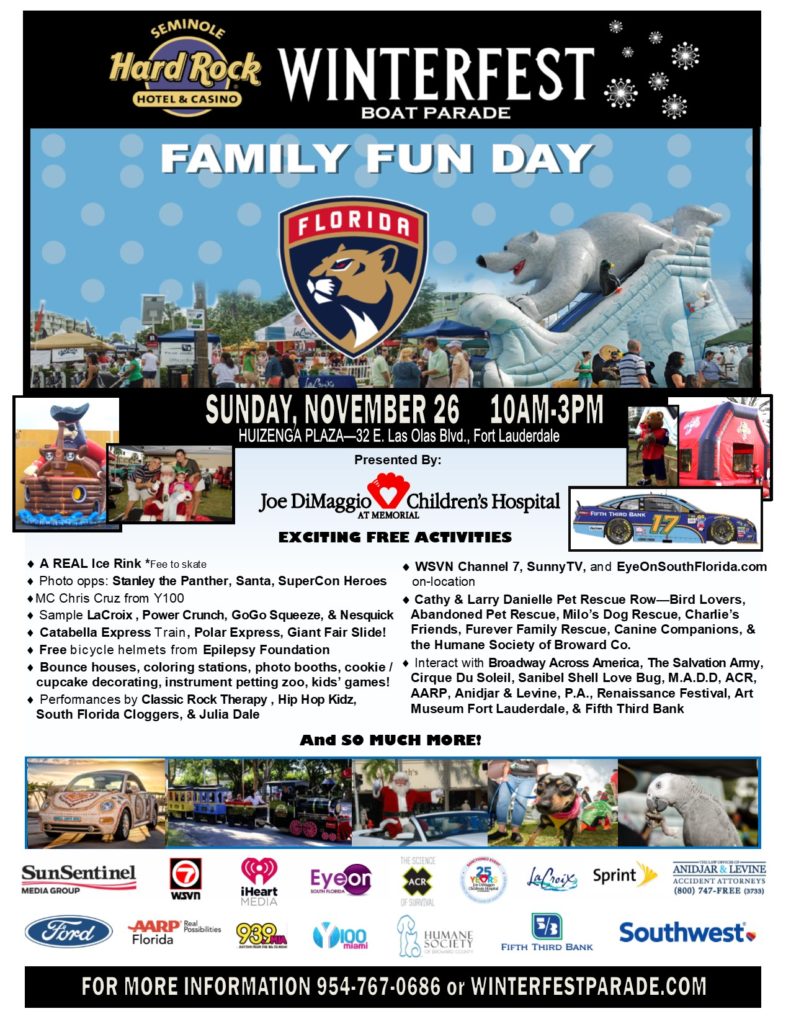 ¨  A REAL Ice Rink *Fee to skate
¨  Photo opps: Stanley the Panther, Santa, SuperCon Heroes
¨ MC Chris Cruz from Y100
¨  Sample LaCroix , Power Crunch, GoGo Squeeze, & Nesquick
¨  Catabella Express Train, Polar Express, Giant Fair Slide!
¨  Free bicycle helmets from Epilepsy Foundation
¨  Bounce houses, coloring stations, photo booths, cookie / cupcake decorating, instrument petting zoo, kids' games!
¨  Performances by Classic Rock Therapy , Hip Hop Kidz, South Florida Cloggers, & Julia Dale
¨  WSVN Channel 7, SunnyTV, and EyeOnSouthFlorida.com on-location
¨  Cathy & Larry Danielle Pet Rescue Row—Bird Lovers, Abandoned Pet Rescue, Milo's Dog Rescue, Charlie's Friends, Furever Family Rescue, Canine Companions, & the Humane Society of Broward Co.
¨  Interact with Broadway Across America, The Salvation Army, Cirque Du Soleil, Sanibel Shell Love Bug, M.A.D.D, ACR, AARP, Anidjar & Levine, P.A., Renaissance Festival, Art Museum Fort Lauderdale, & Fifth Third Bank