ANCHORING
Recommended Anchoring Areas:
Mouth of the New River
New River Cut – South of the turn at Bahia Mar.
Northeast side of the Las Olas Bridge.
Sunrise Bay
Western portion of Lake Santa Barbara – this is where the parade turns around.
No Anchor Zones
The New River will have no anchor zones and will close for boat traffic at 2:30 p.m.
The other parade no anchor zone is Birch State Park. We will be working with many law enforcement agencies and will also provide "control boats" (civilian boaters that have attended safety traning and information seminars regarding the parade).
Make sure you are anchored by 4:00 pm SOUTH OF OAKLAND PARK TO THE TRIANGLE as the Intracoastal Waterway will close to all boat traffic with parts of the intracoastal closing as early a 5:20 PM (south route – intracoastal) and as you travels north times alter slightly later in the night (6:20 PM Oakland Park Boulevard to Lake Santa Barbara). See a virtual map with anchoring locations
CLOSING OF THE WATERWAYS PARADE DAY:
• Closing of waterways to SPECTATOR WATERCRAFT
• City Docks closed to non-parade boats 9 a.m. Parade Day
• 2:30 PM – The New River (Davie Blvd. to Mark 9)
• 4:30 PM – Triangle (East of Mark 9 to Triangle)
• 5:20 PM – The Intracoastal Waterway will be closed SOUTH of Oakland Park Blvd.
• 6:20 PM – The Intracoastal Waterway will be closed NORTH of Oakland Park Blvd.
REMEMBER YOU CANNOT ANCHOR IN FRONT OF A CONTROL BOAT – but a control boat can anchor IN FRONT of your vessel if needed.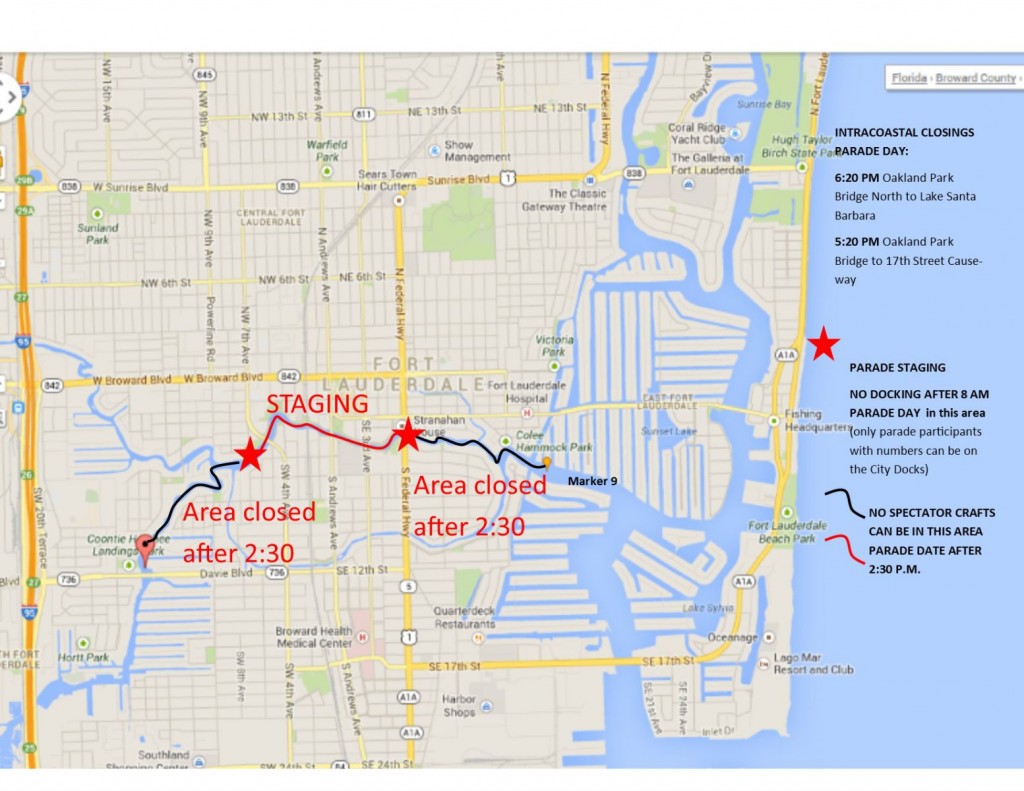 PARADE ROUTE: To view the Google Earth Map of the Parade (please ignore the year 2009 – it is the same map for this year) http://earthnc.com/winterfest