VOTING HAS CLOSED – CONGRATULATIONS
DANIEL MORENO
Ann Storck Center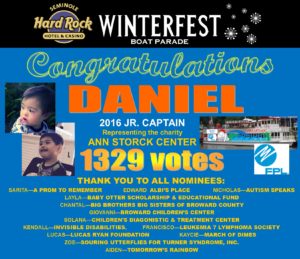 2016 LIST OF NON-PROFIT ORGANIZATIONS, NOMINEES' FIRST NAME & DETAILED STORIES(click the links to view the Word Documents or go back to the voting page):

| | |
| --- | --- |
| A PROM TO REMEMBER- SARITA | CHILDREN'S DIAGNOSTIC & TREATMENT CENTER- SOLANA |
| ABI'S PLACE- | INVISIBLE DISABILITIES- KENDALL |
| ANN STORCK CENTER – DANIEL | LUCAS RYAN FOUNDATION- LUCAS |
| AUTISM SPEAKS – NICK | THE LEUKEMIA & LYMPHOMA SOCIETY- FRANCISCO |
| BABY OTTER SCHOLARSHIP AND EDUCATION FUND- LAYLA | MARCH OF DIMES- KAYCIE |
| BIG BROTHERS, BIG SISTERS OF BROWARD COUNTY- CHANTAL |  SOARING BUTTERFLIES FOR TURNER SYNDROME- ZOË |
| BROWARD CHILDREN'S CENTER- GIOVANNI | TOMORROW'S RAINBOW- AIDEN |
Click here to download our  Jr. Captain Form
EXAMPLE OF A PARENT CONSENT FORM:
I do hereby consent that , ____________________________________ (child's name) a minor, be allowed to participate in the 2016 Winterfest Jr. Captain Contest with his/her photo, name and association with (name of charity) to be used for voting/contest promotional purposes.
Signature of Parent or Legal Guardian Print Name
Date:
---
PAST JR. PARADE CAPTAINS:
2015: Madison Smith representing Cure SMA – Spinal Muscular Atrophy (SMA) type 2
2014: Alex Casamento representing the Arthritis Foundation, Florida Chapter, SE Region. He was diagnosed with Juvenile Idiopathic Arthritis (JIA) at the age of five and is one of 300,000 kids in the U.S. who suffers from this painful and incurable disease.
2013: Lauren Bendesky who was diagnosed with Stage IV Neuroblastoma. Her fight and optimistic attitude is the reason "A Prom to Remember" nominated as their representative in the Parade. Lauren was aboard the Jr. Captain Showboat powered by FPL
2012: Sydney Lister diagnosed with a rare and aggressive form of bone cancer called Ewing's Sarcoma (Facebook winner with 927 votes).
2011: Five year old Martina Bello diagnosed with Leukemia sponsored by the James Jr. Fund.
2010: Alison Marchessault – Born with the Recessive form of Polycystic Kidney Disease, Alison Marchessault has spent so much of her life in hospitals. She is an extremely bright, beautiful and happy young woman. Starlight Children's Foundation has been one of Alison's favorite organizations over the years and she participated in the parade on the Florida Marlin's Boat highlighted this charity.
2009: TheWinterfest® Jr. Captain was created as a legacy of 15-year-old Amanda Blake who battled osteosarcoma, a rare form of bone cancer.