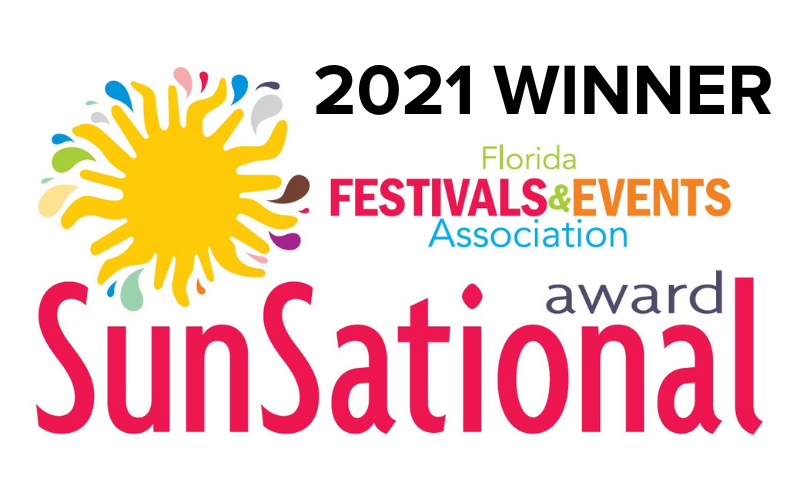 FLORIDA FESTIVALS & EVENTS ASSOCIATION RECOGNIZES STATE'S BEST EVENTS WITH 2021 SUNSATIONAL AWARDS
ORLANDO, Fla. (August 25, 2021) – The Florida Festivals & Events Association (FFEA) recently
announced the winners of its annual SUNsational Awards during their 27th annual convention and
tradeshow. The Program recognizes members' innovation, individuality and creative collaboration.
Nominations were accepted in ten categories, including Printed Materials; Outdoor Advertisement; PR / Media Campaign; Photo; Promotional Item; T-shirt; Broadcast Media; Multimedia Marketing; Adapted and Virtual Events and Programming. Each category included three budget levels. A total of 170 events submitted their materials for consideration.
Winterfest, Inc. was recognized for their promotions and campaigns during 2020 for the following:
First Place:
Virtual Vacation with Santa – Social Media Ad Campaign with Visit Lauderdale
Home for the Holidays Promotional Item (ornament created by Pat Anderson)
Second Place:
Brochure (designed by S.Mark Graphics)
Twitter Campaign
2020 Annual Report
Third Place:
Radio PSA for their contests (with EyeOnSouthFlorida)
For a complete list of winners, visit www.ffea.com/sunsational-awards.
Nominations were judged by a blue ribbon panel representing media outlets, printing companies, website designers, photographers, promotional marketing professionals and social media experts.
"The SUNsational Awards have recognized and celebrated the talents of our members for more than two decades," said Suzanne Neve, CEO of the FFEA. "We're proud of our members and their events – and excited to recognize them in this way each year. This year in particular was incredibly rewarding as we showcased the innovation and resilience of festival and event organizers throughout the state during this unprecedented time."
—
About the Florida Festivals & Events Association (FFEA)Celebrating 27 years, FFEA is a not-for-profit association dedicated to supporting and promoting more than 5,500 festivals, events, and fairs in the state of Florida through education, networking and dissemination of information and the cultivation of high standards. For more information about FFEA, visit www.ffea.com.
First Posted on
Latest Update on