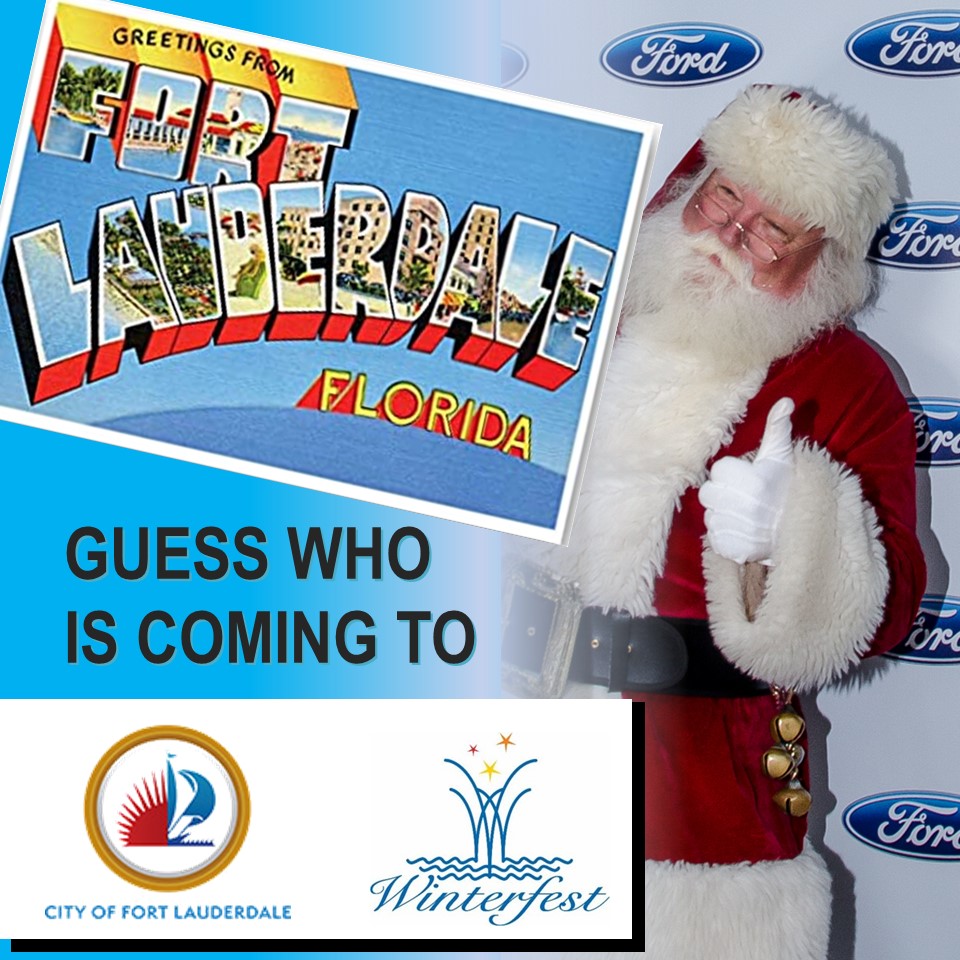 The Greater Fort Lauderdale area is known as a vacation playground with its beautiful beaches, waterways, restaurants, hotels, and more. It is also Santa's favorite place to stop for a little fun before and after his busiest day.
The Greater Fort Lauderdale Convention and Visitors Bureau and the City of Fort Lauderdale are secretly treating Santa Claus as a tourist. And, guess what? Winterfest will have the evidence! Come back to this page the first week of November to find out where Jolly Ol' Elf will be visiting during his stay before the "big night." Winterfest is going to "Catch Santa Under the Florida Sun on Social Media."
Rumor has it: Santa is flying into Fort Lauderdale on Southwest Airlines and will be driving thru town on a convertible Mustang, Sorry, Rudolph – no reindeer on this vacation!
Track Santa on our App – click link – pick your phone and download today: https://winterfestparade.com/santa
NOVEMBER 28th Rumor has it: Santa will be at Las Olas Oceanside Park on November 28th and will be picking up mail. Other locations he is picking up from is Stranahan House and Riverside Hotel.
When you attend our events, you consent to interview(s), photography, audio recording, video recording and its/their release, publication, exhibition, or reproduction to be used for news, web casts, promotional purposes, telecasts, advertising, inclusion on websites, social media, or any other purpose by Winterfest, Inc./Winterfest Foundation and its affiliates and representatives of the event. Images, photos and/or videos may be used to promote similar events in the future, highlight the event and exhibit the capabilities of the event representatives and this website. You release Winterfest, Inc./Winterfest Foundation, the event representatives, its officers and employees, and each and all persons involved from any liability connected with the taking, recording, digitizing, or publication and use of interviews, photographs, computer images, video and/or sound recordings.